As aspirational Asian travellers drive change across the global tourism industry, our specialist travel and tourism division, Check-in Asia, has analysed 10 hot topics in Asian travel for 2018.
The 10 Key Trends in Asian Travel & Tourism report examines 10 defining trends in Asia's tourism sector, ranging from diversifying Chinese and Indian outbound travel and domestic tourism in South East Asia to the growing appeal of sporting adventure and augmented reality, and the looming shadow of overtourism.
These 10 trends highlight the diversity and scale of change across Asia's travel and consumer sectors, and illustrate the overlapping influences of domestic, intra-regional and international tourism in the region.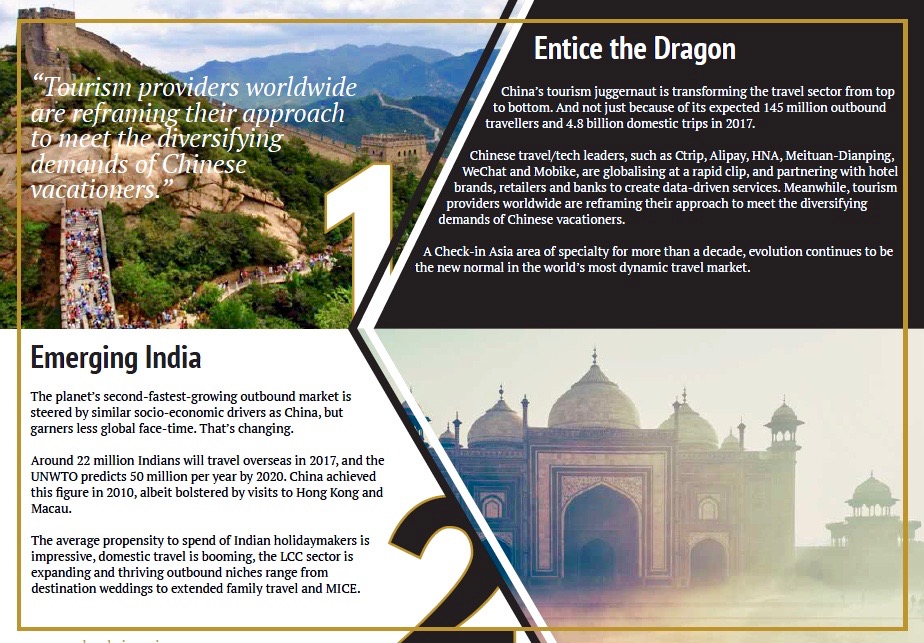 Key quotes from the report include:
"China's tourism juggernaut is transforming the travel sector from top to bottom."
"African tourism providers are ramping up their efforts to tap Asian travellers' growing appetite for locations beyond the ordinary."
"If you deposited a dollar every time a travel CEO in Asia dropped the phrase 'independent travellers,' you could buy Bitcoin."
"The overtourism issue will move further into the mainstream across Asia and worldwide in 2018."
"Asia is the powerhouse of the global travel sector, accounting for 25% of total tourism arrivals in 2017, and its influence will continue to expand and diversify," says Gary Bowerman, Director of Check-in Asia. "Beyond the impressive growth statistics for outbound and domestic travel, innovations in hospitality, aviation, destination marketing and travel purchasing make Asian tourism a compelling global story."
To read the full report, click here – or request a pdf by contacting us here
About Check-in Asia
With bases in Hong Kong, Shanghai and Kuala Lumpur, Check-in Asia produces bespoke reports, articles, presentations, publications and online content covering travel, hospitality and destination trends in Asia. We have produced reports on the tourism economies of China, Pakistan, Japan, Malaysia and Myanmar, plus trends in outbound travel from South East Asia. Check-in Asia also provides tailored content and marketing services for leading hotel brands and travel companies in Asia and worldwide.